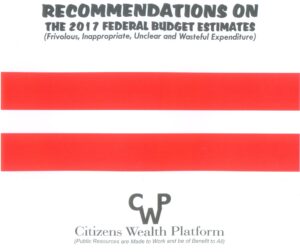 Introduction
Nigeria is in a period of recession which has seen the collapse of living standards and many more Nigerians are now living on the margins. Unemployment is on the increase and the minimum wage of N18, 000 cannot buy a bag of rice which is a staple food. Inflation is over 18%; interest rates are at all time high and many banks have witnessed an upsurge of non-performing loans. Capital importation is headed south; inventories are building up in the manufacturing sector whilst capacity utilization is low and the naira has taken a strong bashing and has lost over 100% of its value.
In this period of great economic uncertainty, the federal budget along with other economic policy instruments is supposed to provide a guide and direction out of the current economic quagmire. However, the estimates are not anchored on any discernible policy plank. We still have a budget suffused with frivolities, inappropriate, unclear and wasteful expenditure. Every Ministry, Department and Agency of government (MDA) seems to be budgeting like business as usual. High level policy documents are not resonating through the budget estimates.
The annual ritual of demanding for welfare packages (N5.452b) computers (N4.3b) and software (N9.5b), bloated refreshment and meals (N2.9b), and purchase of vehicles is still the norm. Every MDA wants a vote for annual budget expenses and administration after provisions have been made for their personnel costs which should have covered this demand. There is a demand for new vehicles without an explanation of what happened to the pool of existing vehicles. To worsen matters, MDAs are breaking the public procurement rules by demanding for specific brands of foreign cars at a time the leadership of the executive and legislature are championing the "Buy Made in Nigeria Campaign". The MDAs doing this include the Presidency/State House. Some examples of inappropriate expenditure proposals include the following:
The budget template seems to be just one, for all MDAs, despite their mandate and area of specialization. Thus, MDAs ask for everything under the sun whether it is needed or not, simply because it is part of the template given to them by the Budget Office of the Federation. Some expenses are duplicated in the estimates whilst many budget heads are so unclear that their purpose is only known to the crafters of the budget. Some MDAs play on words which at the end of the day means that money may be drawn from the treasury for nebulous purposes. In some instances, monitoring and evaluation is stated under different names and ends up with a very bogus vote – as happened in the Ministry of Power, Works and Housing. Many projects are without a location that can facilitate stakeholder monitoring and follow up. Issues like subscription to professional bodies seem to be abused. The office of the Secretary to the Government of the Federation demands N237.9m for this purpose. Pray, how many staff works under him?
The estimates seem to have spread national resources too thin in many critical areas of national interest such as in Works, Power and Housing. Some road projects such as the East West and Abuja Lokoja roads have been in the budget for close to ten years and there is still no hope of completing them this year. The estimates did not seem to have prioritized some projects in the use of available resources. Also, there was no information about the level of completion of ongoing projects. Nigeria is still subsiding pilgrimages at a time our constitution forbids the adoption of state religion.
As in previous years, there is a vote for constituency projects for National Assembly members. This vote needs to be integrated and linked with national policy priorities so that the projects do not become abandoned white elephants that add no value to society after their completion.
The budget needs to be reworked to focus on pro-poor priorities; create an enabling environment for improved production and service delivery; reduce inequality and increase national wealth. Nigerians demand leadership by example from the executive, legislature and the judiciary. Finally, the pulled out line items do not represent the entire frivolous, inappropriate, unclear and wasteful expenditure. It is just to draw attention to the phenomenon and urge the National Assembly to do the needful. Weed them out, trim those that can be trimmed and let the Nigerian people get value for money.
FOR MORE DETAILS, CLICK TO DOWNLOAD:
Frivolous, Inappropriate, Unclear and Wasteful Expenditure In 2017